1973 Ferrari 365 GT4 2+2 in original immaculate condition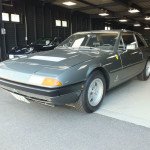 I was out at a Porsche dealer showroom last week and he had this Ferrari in the back warehouse. It's a customer's on consignment for sale. Please contact us if you have a serious interest.
1973 Ferrari 365 GT4 2+2, V12, 5 speed manual. It is indeed in immaculate and original condition and he has the original Ferrari warranty booklet from 1973. The Porsche dealer said he thinks the owner spent a bit of money on the engine after he bought it and certainly the pics show it to be in top notch condition. Despite not been started for a few months it did start and run with a bit of choke and when we started it again later to move it back into it's place it started first time. The gearbox seems good, slips into gear nicely, reversed no problem. We have some video of the engine running should anyone be interested.
[...]