Mini had added a roadster to their succesful lineup
The MINI continued its remarkable evolution overnight with the news there will be a sixth derivative of the breed, this one likely to set the hearts of enthusiasts beating with anticipation – the first open-top two-seater in its history. Simply remove the manual soft-top roof for open air sports car exhilaration, topped off with the MINI's sophisticated chassis technology and low centre of gravity.
The range-topper of the new series is the twin-turbo, 237 km/h (147 mph), 155 kW (211 bhp) MINI John Cooper Works Roadster.
The car has a full complement of driver enhancement technologies – Electric Power Steering, Dynamic Stability Control (DSC), Dynamic Traction Control (DTC), Electronic Differential Lock Control (EDLC), and an active rear spoiler that extends above 80 km/h (50 mph). Not bad for a car that returns 38.7 mpg (7.3 litres/100 kilometres)
The practicality of the MINI Roadster in comparison to traditional two-seater sports cars will be one of the [...]
Honda's new Accord concept car is a preview of the ninth generation model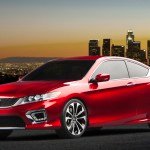 Even without taking into account Japan's recent natural disasters, Honda has struggled of late, seemingly having lost its prominence as a technology innovator. With much riding on next year's models, there was a lot of interest when the covers came off of the new Honda Accord Coupe Concept at the 2012 North American International Auto Show (NAIAS) recently, revealing the first official glimpse of a new styling direction, as well as revealing a host of claimed new technologies for the all-new, ninth-generation 2013 model, set to go on-sale this fall in America.
As is the norm these days, the 2013 Honda Accord is designed to accommodate a variety of powerplant options, including a 2.4-liter direct-injected, 181 hp internal combustion engine, with either a 6-speed manual or a Continuously Variable Transmission (CVT), a 3.5-litre SOHC 4-valve V6 matched to a 6-speed automatic, and a plug-in hybrid system that moves continuously through three modes – all-electric, gasoline-electric [...]