25-year old cars for the USA
9 Cars worth importing under the 25-year rule in 2016
January 23, 2016

Posted by

Simon
It is January 2016 and a new assortment of amazing cars that were not ever sold in the United States are now eligible for importation under the Department of Transportation 25-year rule.  The 25-year rule states that cars that are more than 25 years old are exempt from EPA and DOT requirements.  This means that many great cars that were not previously available for sale in the United States can now be imported and driven legally on American roads.  In this post, we will be looking at 9 cars worth importing under the 25-year rule in 2016.
Alpina B7 Bi-Turbo
The B10 BiTurbo (https://en.wikipedia.org/wiki/Alpina_B10_Biturbo)is a high performance version of the BMW 5 Series E34.  Starting in 1989, the B10 BiTurbo was based on the BMW 535i and received several upgrades by Alpina including engine, transmission, and suspension.  The Alpina B10 Bi-Turbo was much faster than BMWs own M5.
At the time of its release, it was found to be the fastest production sedan in the World.  A total of 507 units were produced with many eventually finding their way to Japan.
https://upload.wikimedia.org/wikipedia/commons/c/c1/Alpina-B10-BiTurbo-Seitenansicht.jpg
Suzuki Cappacino
The Suzuki Cappaccino (https://en.wikipedia.org/wiki/Suzuki_Cappuccino) is a small 2-door, 2 seater minicar produced by the Suzuki Motor Corporation.  It features a removable hardtop and was designed to meet Kei car specifications.  The Cappaccino is powered by a turbocharged, three-cylinder engine having 600cc of displacement.
http://vignette4.wikia.nocookie.net/initiald/images/3/3e/Suzuki_Cappuccino.jpg/revision/latest?cb=20150903113912
When a car meets Kei car specifications, it is entitled to receive both lower taxes and insurance in Japan.
Toyota Aristo S140
The first generation Lexus GS was sold in Japan as the Toyota Aristo (https://en.wikipedia.org/wiki/Lexus_GS).  There were two engine options available at the time, one of which was with a 24-value twin-turbo, 2JZ-GTE engine producing 275 horsepower.  This is the same engine found in the legendary Toyota Supra Turbo from the same time period.
A year later in 1992, a third model, a V8-powered 4.0 Zi-Four (UZS143) was released for the Japanese market.  This model came with a standard all-wheel drive and 249 hp 1UZ-FE engine.  This car was also designed by Giorgetto Guigaro, one of the leading automotive designers at the time.
https://upload.wikimedia.org/wikipedia/commons/b/bf/Jzs14_Toyota_Aristo_1.jpg
Honda Beat
Introduced in May of 1991, the Honda Beat (https://en.wikipedia.org/wiki/Honda_Beat) was another car that was never available in the United States.  The Honda Beat is a rear-wheel drive, mid-engined two-seat roadster, that also met Kei car specifications.  This means that the engine was limited to 600cc's and received tax and insurance breaks in Japan.
The Honda Beat was the last car to be approved by Honda founder Soichiro Honda before he died.  The car was designed by Pininfarina, another leading automotive designer from this time period.
https://upload.wikimedia.org/wikipedia/commons/thumb/7/75/Honda_Beat.jpg/800px-Honda_Beat.jpg
Mazda Eunos Cosmos
Produced between 1967 and 1995, the Mazda Cosmos was a grand touring coupe that served as the "halo" vehicle for Mazda.  Built between 1990 and 1996 on the JC platform, the Eunos Cosmos was the top-of-the-line flagship for Mazda and its Eunos luxury channel.
The Eunos Cosmo is unique and had several industry 'firsts'.  To begin, it was the only Mazda engine to use a triple rotor engine.  While it was available with the twin-turbo 13B-RE and 20B-REW engine, approximately 40% of the total 8, 875 units sold had the triple rotor engine, making it a pretty rare engine.
The Eunos Cosmos was well ahead of its time electronically by being offered with a CRT color touch screen controlling climate control, mobile phone, GPS navigation, radio and CD player.  While common on leading cars in the late 90s and early 2000s, the Eunos Cosmos was the first.
http://forums.vwvortex.com/showthread.php?6874241-Eunos-Cosmo-eBay-find
Nissan Figaro
25 years later, the Nissan Figaro has managed to retain its Global fan base despite the fact that it was originally only sold in Japan.
First introduced in at the 1989 Toyota Motor Show, the Figaro was built by the Nissan special projects group which also produced niche automobiles such as the Be-1, Pao, and S-Cargo.  Based on the Nissan Micra/March, it was only available in four colors: Topaz Mist, Emerald Green, Pale Aqua, and Lapis Grey.  With each color symbolizing a season of the year, only 8,000 were initially available with an additional 12,000 added to production to meet demand.
Nissan Pulsar GTI-R
While the Nissan Pulsar was available in the United States, there was a variant that was forbidden fruit.  The N14 series (https://en.wikipedia.org/wiki/Nissan_Pulsar)which was made for the Japanese domestic market produced the Nissan Pulsar GTI-R three door hatch-back.  This was a homologation special produced between 1990 and 1994 in order to enter the World Rally Cup under Group A rules at that time.  The Nissan Pulsar GTI-R featured a turbocharged 2.0-liter SR20DET engine producing 227 hp and 210 lb-ft of torque.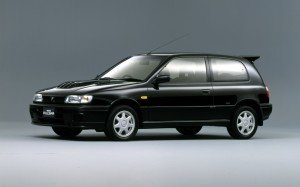 http://www.sub5zero.com/wp-content/uploads/2013/08/1991-Nissan-Pulsar-GTI-R-Front-Three-Quarter-Black.jpg
Nissan R32
Made famous by the Fast and Furious movies over the past several years, the year three model run of the third generation of the Nissan Skyline is eligible for importation into the United States.  Manufactured between 1989 and 1994, the R32 Nissan Skyline GT-R, developed 276 horsepower and 266 lb-ft of torque.
The R32 had a 2.6 litre RB26DETT twin turbo engine and five speed manual transmission.  Because of its larger size, Nissan developed a special racing oriented all-wheel-drive system which increased the weight of the vehicle by 100kg.
During the model run of the R32, a total of 43,934 units were produced.
Toyota Sera
Another car that was built exclusively for the Japanese market that has attracted an overseas following is the Toyota Sera (https://en.wikipedia.org/wiki/Toyota_Sera).  Unveiled in 1988 in nearly production form as the Toyota AXV-II concept car, a total of 15, 941 units were produced between February 1990 and December 1995.
The Toyota Sera was most famous for its butterfly doors which tilt upward and forward when opened.  Additionally, the canopy or roof of the vehicle is primarily constructed of glass.
While known for its roof and doors, the Toyota Sera got a 1.5-liter inline-four and was available with either a four-speed automatic or a five-speed manual transmission.  Anti-lock disc brakes were optional while front discs and rear drums were standard.
http://i141.photobucket.com/albums/r59/thecovernant/P1010009.jpg
Closing Thoughts
While many of the cars on this list were manufactured in Japan, the Country of Japan is also a great source for desirable and unique European cars as well.  Japan has had a large and vibrant automobile market.  As a result, many high quality European cars such as Alpina (BMW), AMG (Mercedes Benz), Ruf (Porsche) and others can be found on the streets and auction houses throughout Japan.
If you would like to learn about what rare and unique cars are available for export or how to access Japanese auto auctions, contact us today.
About JAA
JAA began in 1998 as a used car exporter offering vehicles direct from Japanese dealer auctions to clients all over the world. We now offer vehicle sourcing not only from Japan but also the USA and the UK.