Honda NSX launch delayed
The launch of the new Honda NSX has been delayed
December 21, 2015

Posted by

Simon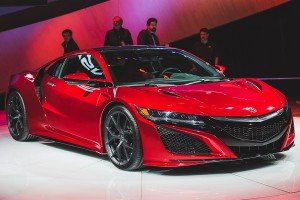 The launch of the latest 550bhp hybrid Honda NSX has been postponed till 2016. The much awaited supercar features three electrical motors. It was originally supposed to be launched in the market year ending 2015. However, now there is news that the release might be delayed by six months.
The Honda NSX is sold in North America as Acura NSX and is a mid-engine, two-seater sports car by Honda. A company spokesman confirmed the news of the delay and said that it will also have an impact on the NSX in Europe. A change in the layout of the engine during the development phase has been announced as the reason for the delay.
Bulk production in Europe to be affected
 The first-generation model of the car made its debut in the year 1989 (Chicago Auto Show) with the code name NS-X, where N stood for "New", S for "Sportscar" and E for "Experimental". The name of the prototype later became the official name for the final production model. The two-seater rear-wheel drive was the first ever all-aluminum body car launched by Honda.
Reports suggest that since Accura has confirmed the postponement for the NSX launch, it will affect Europe's mass production because the manufacturing takes place in a common factory. The release date could be sometime in the spring of 2016 or later. There is no news of a final date yet.
Features and design of the Honda NSX 2016
 The latest Honda NSX has a lightweight aluminum structure with a V6 mid-mounted engine. However, that is all it has in common with the original NSX. As far as the features of the new NSX are concerned, all wheels are driven by a petrol-electric power train and it has a modern multi-material structure. It also features a floor made of stiff carbon fiber.
The Honda NSX's European model was launched at the Geneva Motor Show (2015) and the car was first revealed at the car show in Detroit in January. It was twenty five years later that the first NSX was launched.
The V6 features a unique dry-sump lubrication mechanism as well as a compact valve train, which is especially designed for low mounting of the motor. It helps to bring down the center of gravity for the car. Also, one electric motor has been placed between the gearbox and the engine for support, brakes, acceleration as well as for the transmission shifting operation.