Mazda at the 2016 Tokyo Auto Salon
Mazda shows exciting new concepts at the 2016 Tokyo Auto Salon
February 8, 2016

Posted by

Simon
On January 15 through 17, 2016, the Tokyo Auto Salon was held at the Makuhari Messe, in Chiba City, Japan. The Tokyo Auto Salon is one of the leading modified and custom car shows in the World. Started in 1983 as a way to promote custom car culture in Japan, auto manufacturers have been known to launch new vehicles at the show.
One vehicle that debuted at the Tokyo Auto Show but was also shown at the Tokyo Auto Salon was the Mazda RX-Vision. The center-piece of Mazda's stand is a long and sleek coupe with an all-new rotary engine. Does this vehicle hint at a new flagship sports car?
The Mazda RX-Vision
The Mazda RX-Vision carries over the front-engine, rear-drive formula from the RX-7. However, it has a 'next generation' rotary engine called the 16X which uses a new rotary technology called SKYACTIVE-R. Mazda says that the new engine addresses the three main shortcomings associated with rotary engines: economy, emissions and reliability.
While Volvo is known for safety and Toyota for reliability, Mazda is known for their rotary engines. They have successfully raced Wankel rotary-engined cars at Le Mans and have a very loyal following throughout the World.
As an indicator of Mazda's commitment to the Wankel rotary engine, a spokesman confirmed that they have over 100 engineers working on the production version of the next generation engine. Mazda is working towards a major breakthrough in the next couple of years.
While most concept cars use screens to operate the vehicle, Mazda engineers for the RX-Vision took a different approach. They chose a combination of simple and mechanical with of use of levers and gauges wrapped in genuine leather trim from which to operate the vehicle. This approach speaks of handcrafted warmth yet retains the sense of tension.
Other Mazda Debuts at the 2016 Tokyo Auto Salon
The Mazda RX-Vision was not the only concept vehicle that they brought to the 2016 Tokyo Auto Salon. They also showed two of MX-5 Racing concepts, a customized CX-3 and a rally-prepped Mazda 2 (Demio)
Two Mazda MX-5 or 'Roadster' in Japan were shown that were equipped with racing equipment such as an adjustable suspension, racing interiors and new sport exhausts. The RS Racing concept was painted a bold gloss black while the NR-A Racing Spec MX-5 had a white, sliver, red, and black livery.
The MX-5 NA-R took it one step further with the use of an integrated roll cage, race decals and a bright red tow hook integrated into the front bumper.
Mazda showed another racing inspired concept with a rally-prepped Mazda Demio otherwise known as the Mazda 2. It featured mud flaps, roll cage with stripped-out cabin and rally wheels and tires. There was no indication that Mazda intends to campaign the vehicle in any future rally events.
The final concept shown by Mazda was a customized CX-3 with a paint scheme similar to the red and black Roadster RS Racing concept. It featured a roof-mounted spoiler and new rear bumper.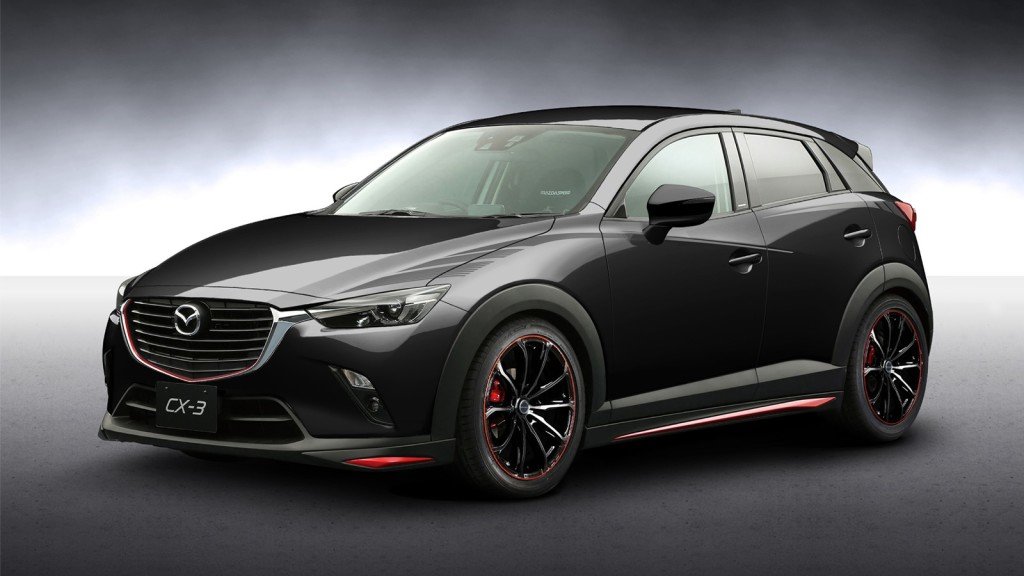 If the cars shown by Mazda at the 2016 Tokyo Auto Salon are any indication of what is to come, we should have a lot to look forward to.
About JAA
JAA began in 1998 as a used car exporter offering vehicles direct from Japanese dealer auctions to clients all over the world. We now offer vehicle sourcing not only from Japan but also the USA and the UK.